Genuine Ford Parts for Londonderry Shoppers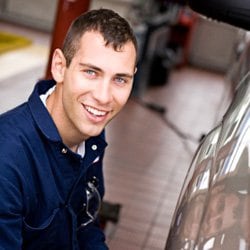 Ford owners here will be happy to know that our parts center carries the genuine brand equipment that their cars, trucks, and SUV models will need. We prioritize your convenience and ability to obtain authentic OEM parts with ease and peace of mind.
Along with our premium quality auto parts, Manchester, NH will also enjoy our service center with our certified mechanics. Our extensive website allows you to order the needed parts and capitalize on our year-round specials.
Why You Should Trust Our Auto Parts at Ford of Londonderry
At Ford of Londonderry, we must provide Salem, NH, shoppers with Ford parts that are guaranteed to work with their vehicles. Our parts center exclusively supplies Original Equipment Manufacturer parts. OEM parts are tested and regulated by Ford for guaranteed compatibility with their trucks, cars and SUV models.
Even though aftermarket parts are an option, they do not have the same standards as OEM equipment. Therefore, we use OEM parts to ensure that you have equipment that is guaranteed to work with your particular model.
In addition to our authentic Ford parts, our team of certified Ford mechanics is always available to install your replacement. Whether or not you have the skills to perform your installations, our convenient services can help you save time. We want to ensure that your maintenance needs can be satisfied in the most accessible and efficient manner possible.
Using Our Website to Order Your Ford Parts
We believe that Ford owners from nearby Nashua should be able to order the parts and equipment they need without excessive hassle or strain. With our comprehensive website, you can easily access our entire inventory of OEM Ford parts with our
online parts form
. All you need to do is select the parts you need and order them through our service form.
Schedule Your Service Today
You can also use that form to schedule any installations or in-store pick-up times that work for you. In addition, our website supplies an extensive list of auto service specials that help you save even more on our already-affordable service. With all these benefits, we would love to have you visit our service and parts center at Ford of Londonderry.