Search
Model Lineup
MPG: 28 EPA-Est Hwy | 14 City

MPG: 28 EPA-Est Hwy | 14 City

MPG: 31 EPA-Est Hwy | 15 City

MPG: 31 EPA-Est Hwy | 15 City

MPG: 21 EPA-Est Hwy | 14 City

MPG: 18 EPA-Est Hwy | 12 City

MPG: 35 EPA-Est Hwy | 27 City

MPG: 34 EPA-Est Hwy | 20 City

MPG: 34 EPA-Est Hwy | 17 City

MPG: 41 EPA-Est Hwy | 43 City

MPG: 41 EPA-Est Hwy | 43 City

MPG: 29 EPA-Est Hwy | 23 City

MPG: 29 EPA-Est Hwy | 19 City

MPG: 29 EPA-Est Hwy | 19 City

MPG: 37 EPA-Est Hwy | 23 City

MPG: 30 EPA-Est Hwy | 21 City

MPG: 23 EPA-Est Hwy | 17 City

MPG: 24 EPA-Est Hwy | 17 City

MPG: 23 EPA-Est Hwy | 16 City

MPG: 28 EPA-Est Hwy | 18 City

MPG: 27 EPA-Est Hwy | 16 City

MPG: 23 EPA-Est Hwy | 15 City

MPG: 26 EPA-Est Hwy | 15 City

MPG: 26 EPA-Est Hwy | 13 City

MPG: 26 EPA-Est Hwy | 19 City

MPG: 27 EPA-Est Hwy | 24 City

MPG: 27 EPA-Est Hwy | 24 City

MPG: 29 EPA-Est Hwy | 0 City

MPG: 29 EPA-Est Hwy | 0 City

MPG: 18 EPA-Est Hwy | 14 City
convertible

coupe

sedan

SUV

truck

van

wagon
Welcome to Ford of Londonderry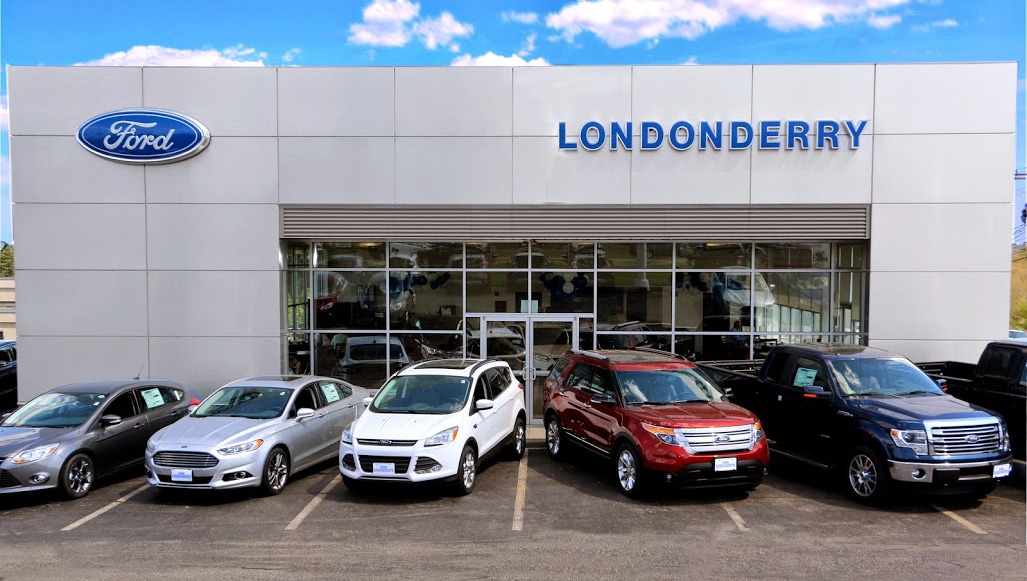 New and Used Ford Dealer near Manchester, Salem, Nashua, and Derry, NH!
Welcome and thank you for choosing Ford of Londonderry! We are proud to be your New Hampshire new and used Ford destination. Our Ford sales professionals are here and ready to assist you quickly and easily. We take pride in being one of Londonderry, NH's leading Ford dealers and want to pair you with the Ford of your dreams today. Our state-of-the-art car dealership has extended hours and a staff of friendly professionals ready to assist you. Whether you're looking to get behind the wheel of a sedan, coupe, pickup truck, or SUV, we have the perfect option for you in the Manchester, Derry, Salem, and Nashua area at Ford of Londonderry. Make the short drive over to check out our inventory and schedule a test drive today. Come see why so many local customers have made us their trusted Ford Dealer in New Hampshire.
New Ford F-150, F-250, Explorer, Escape, and Fusion in Londonderry
The new inventory at Ford of Londonderry features the latest and greatest models from Ford's legendary lineup. We have a wide selection of new sedans such as the Fusion and Taurus, both great options for your daily commute or a night out on the town. We also have more fuel efficient options like the Focus, C-Max, Fiesta, and Fusion Energi. For rubber-burning performance and head turning style, be sure to check out the new Mustang coupe or convertible. Drivers wanting more cargo space and versatility should check out our new SUV models including the Explorer, Edge, Flex crossover, Escape, EcoSport and the all-new Expedition. Be sure to check out America's best-selling pickup line as well featuring the F-150, F-250, and the F-350. Ask about these impressive models and more when you stop by the Ford of Londonderry dealership today!
Top-Quality Used Cars and Certified Pre-Owned Vehicles near Manchester, NH
Ford of Londonderry also has a vast selection of used vehicles available and incredible offers. We have used models from many top brands including Ford, Subaru, Toyota, Chevrolet, Jeep, Nissan, Kia, Chrysler, MINI, Hyundai, and more available for you right now. All of our used models come with quality and outstanding customer support you can trust. We also have a selection of models priced under $15K to help you save more on the used car you want. Speak with our sales experts about these amazing used vehicles and available deals during your next visit to our Ford Dealer in New Hampshire.
Auto Service and Parts
We strive to take care of our customers long after the sale. Our on-site service department has certified Ford technicians to keep your car in excellent condition for years to come. Whether you need routine maintenance or general repairs, you can trust our experts to get you back on the road safely and quickly. We perform a wide variety of services including oil changes, tire rotations, and fluid exchanges to help extend the life of your vehicle. We also have a well-stocked parts department with OEM Ford parts and accessories available. Be sure to visit us for more information on our services and current parts specials today.
Car Loans, Auto Financing, and Ford Leases Available in Londonderry
When you have found the new or used Ford of your dreams, make your way over to our finance department. We have a team of skilled finance experts at our dealership ready to get you approved and on the road in no time. Whether you're looking to buy or lease, let us find you an amazing deal for less. Our associates work with a vast range of credit scores to get our customers on the road within budget. Visit us today for more information and current offers.
What else does Ford of Londonderry have to offer? Aside from expert knowledge in everything automotive, we simply love serving you. So give us a call at 888-397-2759 or come see us today, conveniently located at 33 Nashua Rd, Rt 102 in Londonderry, NH. Be sure to bring your questions, and be ready for answers!