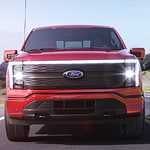 Utility is arguably one of the most important features of any pickup truck. Luckily, the 2023 Ford F-150 beats the argument by delivering some of the best utility features offered in a truck. Whether you're interested in the F-150 for work or leisure, you'll be glad to know that the F-150 has everything you need to dominate the road. Read on to see just how the Ford F-150 is enhancing your drive through utility.
2023 Ford F-150: Utility Features

?Be prepared to ramp up your ride with the Ford F-150. Who needs a generator when you have a Ford F-150? The F-150 has its own energy source, enabling you to have power on-demand when your vehicle is parked.
Drivers can choose between hybrid and horsepower when getting behind the wheel. Choose hybrid when you're looking to go the extra mile or take advantage of the v6 engine to assist in your hauling needs. You'll also enjoy the fact that the 2023 Ford F-150 delivers exceptional space, offering leg and head room for all of your passengers.