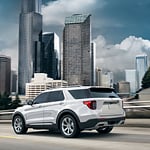 The 2022 Ford Explorer is a performance-driven SUV with features to make your ride more comfortable and entertaining.
The 2022 Ford Explorer has two drive modes- Sport and Normal. You can switch between the modes to match your driving style or your driving conditions. Sport mode is designed for a more exhilarating experience. It sharpens the SUV's handling and throttle response for a livelier feel. Meanwhile, Normal mode is ideal for everyday driving. It gives you a balanced blend of performance and efficiency.
All-new available 3.0L EcoBoost® engine with an estimated 365 horsepower and 380 lb.-ft. of torque
2.3L EcoBoost® I4 engine with an estimated 300 horsepower and 310 lb.-ft. of torque
The hybrid powertrain with an estimated 318 horsepower
The all-new 3.0L EcoBoost engine is the most powerful engine ever offered in an Explorer. It's designed for drivers who want maximum power and performance from their SUVs.
The 2.3L EcoBoost I4 engine is a great choice for those who want a balance of performance and efficiency.
And for those who prioritize efficiency, there's the hybrid powertrain. It offers an impressive estimate of 318 horsepower while still being gentle on fuel.