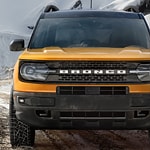 For Londonderry, NH motorists considering the Ford Bronco, performance features are of great importance. What can the Ford Bronco offer local drivers in this area? You are likely to be pleased with the water fording capabilities of this Ford vehicle due to its exceptional 11.6-inch ground clearance and its high-mounted air intake.
Additionally, the 35-inch tires that are available for all the Ford Bronco models were designed with traction in mind. Thanks to this vehicle's Beadlock-Capable Wheels, you will also be able to air down your Ford Bronco's tires if you would like to create a better off-roading experience.
Here at Ford of Londonderry, we are confident that the Ford Bronco's performance features are enough to handle almost any terrain that local drivers will need to drive on. Whether you are concerned about water fording, traction, or ground clearance, the Ford Bronco's performance features are here to help.