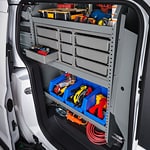 The Diverse Ford Transit Connect Lineup
The Ford Transit Connect at Ford of Londonderry is a great model for customers in Londonderry, NH who are looking for vans that can be easily driven through congested areas. Despite its compact exterior design, the Ford Transit Connect offers a spacious cabin for its drivers to utilize. The lineup of Ford Transit Connect models features both cargo vans and passenger vans.
Comfortable Experience
The passenger van configuration of the Ford Transit Connect features three rows of seats, which provides seating for up to seven people. Each of the van's seven occupants will have an experience in the van that is safe, comfortable, and enjoyable. A premium audio system is available for the Ford Transit Connect, giving the van's occupants high-definition audio.
Maneuverability
The compact design of the Ford Transit Connect allows it to fit in tight spaces, but each of the two engines that are available for the van provides ample power to move the model.