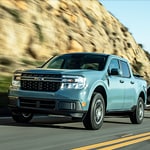 When it comes to designing vehicles for maximum power and luxury, Ford has been on the lead. All the Ford vehicle models come standard with high technology and security measures that make them popular. Drivers in the United States and across the world who are in the market for heavy-duty workhorses find the Ford to be a great choice.
The Ford Maverick here at Ford of Londonderry stands out to form the rest in the Ford lineup, thanks to its reliability and excellent capability features that make it an ideal truck for on- and off-road driving in Londonderry, NH. It comes with capabilities and comfort that puts it at the top. Ford Maverick offers unraveled control and better handling with faster response time, which enhances its overall performance.
Under the hood, the Ford Maverick's 3.5-liter EcoBoost Engine delivers 400 hp, enabling the vehicle to handle the most complicated jobs and terrains. Coupled with a smooth-shifting automatic transmission that comes standard with the truck, the Maverick is easy to handle and maneuver in any terrain.