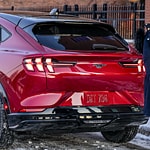 The 2022 Ford Mustang Mach-E features a customizable digital instrument cluster. The driver can choose which information they want to see in the instrument cluster, and how it is displayed. For example, drivers may want to customize their display so that they only see speedometer information when cruising on the highway or city streets, but also see other relevant information when driving off-road or on an obstacle course.
The customizable instrument cluster also features haptic feedback technology that provides drivers with tactile reminders through vibrations in the steering wheel or seatbelt buckle when they need to make adjustments to their driving habits.
10.2-inch capacitive touchscreens to help you stay connected and in control. A primary touchscreen sits between the instrument cluster, providing access to FordPass Connect for infotainment, climate control, and navigation functions. The second touchscreen is mounted behind the steering wheel and provides access to vehicle information like tire pressure monitoring system (TPMS) status or an alert when your battery is low.