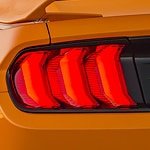 The Mustang is one of the most iconic American cars. This car has been a part of the American culture for decades, and it has been loved by many generations. The new Mustang is boosted with some enhanced performance features that are not available on any other model in the lineup. It comes with an EcoBoost engine, 10-speed automatic transmission, 5.0L Mustang V8 engine, launch control, dual exhaust, and valve performance exhaust.
Its lively 2.3-liter EcoBoost engine offers a decent amount of torque and quick acceleration that makes the Mustang compete favorably with many other sports cars in the class. The enhanced performance and reliability of this engine makes the Mustang an ideal race car.
Both engine options are paired to a 10-speed automatic transmission that helps the Mustang to present a more agile and easy to handle driving. It also sports a launch control feature and an electronic line-lock for the peace of mind of the driver.