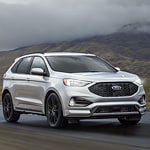 The Ford Edge is a one of the most popular mid-sized crossover SUV in the United States with three engine options. It also offers a choice of front- or all-wheel drive (AWD) drivetrain. The Edge offers a wide range of features, including the SYNC 3 infotainment system, an 8.0-inch touchscreen display with Apple CarPlay and Android Auto compatibility, dual zone automatic climate control, heated front seats, and more.
The Ford Edge is one of the most versatile crossovers on the market today. It offers a wide range of features that are designed to make your life easier every day. The 2.7-liter EcoBoost engine that come standard on the new Ford Edge provides power, adaptability, and agility that makes the Ford Edge a go-to SUV for people and cargo hauling.
Ford Edge gives the driver and the passengers the peace of mind when riding in it, thanks to its Sport driving mode that complements the powerful V-6 engine to offer excellent performance.